What is a Business Cash Advance?
A business cash advance is an advance on future sales where you agree to payback that advance at a specified percentage of your daily future sales.  As such, it is technically not considered a loan.
Variations on this type of financing are usually offered by alternative lenders, such as Small Business Funding.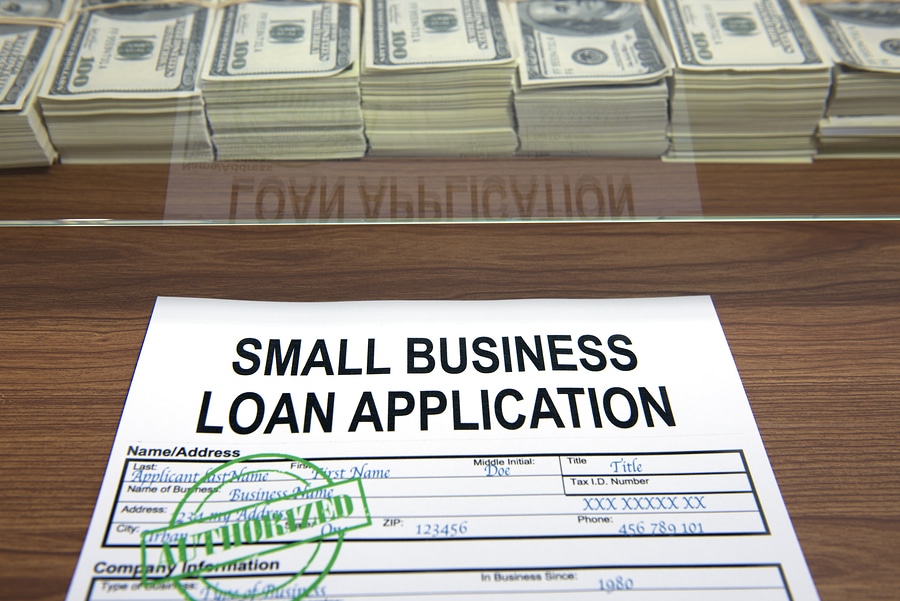 How Does a Business Cash Advance Work?
A Business Cash Advance is repaid either daily or weekly, via a business' merchant processor or via a daily ACH debit from your bank account.
The daily or weekly remittance amount is based on a percentage of daily sales.  As a result, there is no set term of repayment.  The front page of your agreement should have this clearly stated.
Your total repayment amount may range anywhere from 9% to 47% more than the funded amount. This is called the factor.   The factor you are approved at could be based on several business attributes.  Some of which may include (among others):
Length of time in business
Consistency of revenue
Seasonality of the business
Your total repayment is calculated by multiplying your advanced, or funded, amount, by the factor.
For example, if I take the following:
Cash advance: $100,000
Factor: 1.25
Then the payback amount would be $125,000.
In terms of payback, most business cash advance transactions take four to twelve months.
How is a Business Cash Advance different from a Loan?
Both a small business cash advance and a small business loan provide capital to a business owner.  However, with a loan you are required to pay back a fixed amount (principal + interest) within a specified time frame.  Payments for a loan usually occur monthly.
For example, if I use a traditional loan calculator to calculate the following:
Loan: $100,000
APR: 8%
Term: 2 years
Monthly payment would be $4,522
The total repayment would be $108,545.
A traditional loan will also typically require some form of collateral.  This way, in the event of a default the lender is able to take possession of and sell the collateral.  Conversely, a business cash advance does not typically require specific collateral to be attached, other than the future receivables you agree to pay as a part of the agreement.
Here is a summary of the major differences: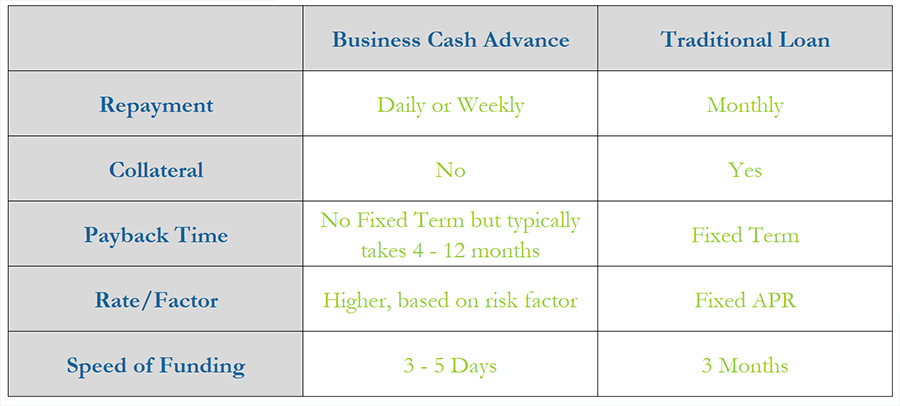 The overall cost of a cash advances for business is much higher than a traditional bank loan due to these less restrictive requirements listed above.
This funding option also carries much higher risk for an alternative lender.  Due to this reason, the overall cost to the business is much higher.   However getting qualified is easier than a traditional loan and receiving funding is much quicker.
Often bad credit, time in business, or even a small loan request can prevent you from receiving a tradition loan.  In these situations, a Business Cash Advance may be the only option available to you.
Minimum Requirements
1 – Must be in business at least 6 months
2 – Must have minimum monthly revenue of $15,000
3 – Must have business bank account (need to submit past 3 months)
4 – Minimum credit score of 500

Uses For a Business Cash Advance
Your small business cash advance can be used for many business-related expenses.  A few examples are:
Open up a new location
Renovate existing location
Purchase additional inventory
Equipment
Payroll
Marketing or advertising
Expanding business operations
This differs from a traditional loan where you will need to provide a business plan outlining how you plan on using the funding.
Advantages and Disadvantages
Like any finance option, there are advantages and disadvantages.  And it's your responsibility to do your research and determine if this funding option is right for you.
What are the advantages:
You can qualify even with bad credit
You can receive funding quickly
No collateral
Less paperwork
Newer companies (6 months in business) can still receive funding
What are the disadvantages:
Higher cost than a traditional loan
Daily or weekly payments instead of monthly
So you'll need to determine, does this advance allow you to increase revenue or avert an acute business crisis.  If so, then the higher cost of a cash advance option may be worth the investment.
Business Cash Advance Varieties
A business cash advance can come in different varieties.
The most common being the Working Capital Advance – The repayment of a Working Capital Advance is via a daily ACH debit from your bank account,.
The other is a Merchant Cash Advance.  This is similar to a Working Capital Advance.  The difference is that repayment is through credit card processing (or merchant processor), where an agreed-upon percentage of credit card receivables is held back and sent to the lender.
How Can Small Business Funding Help
Small Business Funding will work with you to determine which type of funding will work best for your business situation.
Maybe our Working Capital Advance is best structured for your business.  Or perhaps it's one of our other funding options, such as:
Sometimes a more expensive funding option is warranted.  Other times a more traditional lending product makes more sense.
Figuring out what, where, and how to set you up with the best lender and get the most beneficial funding is what we specialize in.
Small Business Funding specializes in helping small business owners secure the capital they need regardless of their situation.