Credit scores are one of the main determining factors when it comes to borrowing.  So, if you have a poor credit score, you'll find it difficult to secure a business loan.
In fact, traditional banks hardly ever lend to business owners with poor credit.  The reason being is these banks do not want to take on too much risk.  And anyone with a high credit score is considered high risk.  The last thing a lender wants to do is give funding to a business owner that may not be able to pay it back.
As a business owner, having the ability to secure a loan could mean the difference between expanding your business or going under.
Having a poor personal credit score shouldn't affect your ability to get business funding.  But how to get a business loan with bad credit will require a little more effort compared to an owner with good credit.
What You Need to Know Before Applying
As you're preparing to apply for a business loan with bad credit, there are several things you need to know.
Credit Score
The first thing you need to know is your credit score.  You can request a free copy of your credit report from each of the three major credit reporting agencies – TransUnion, Equifax, and Experian – once a year through annualcreditreport.com.
Knowing this will help you determine what you may be eligible for and which lenders would be willing to fund your business.
Lenders
Research which lenders work with business owners who currently have a lower than desired credit score.  There are plenty of companies willing to provide your business funding, so determine which one will be the best fit for business.
See what funding products they have to offer and what the credit score requirements are for each option.  For example, if your credit score is a 650, that may be too low for a bank but an alternative lender may have several different funding options.  However if your score is below a 500, your options may be severely limited.
Ask for recommendations.  Do your research online, check the lender's reputation through reviews on sites such as TrustPilot, the Better Business Bureau, or Google.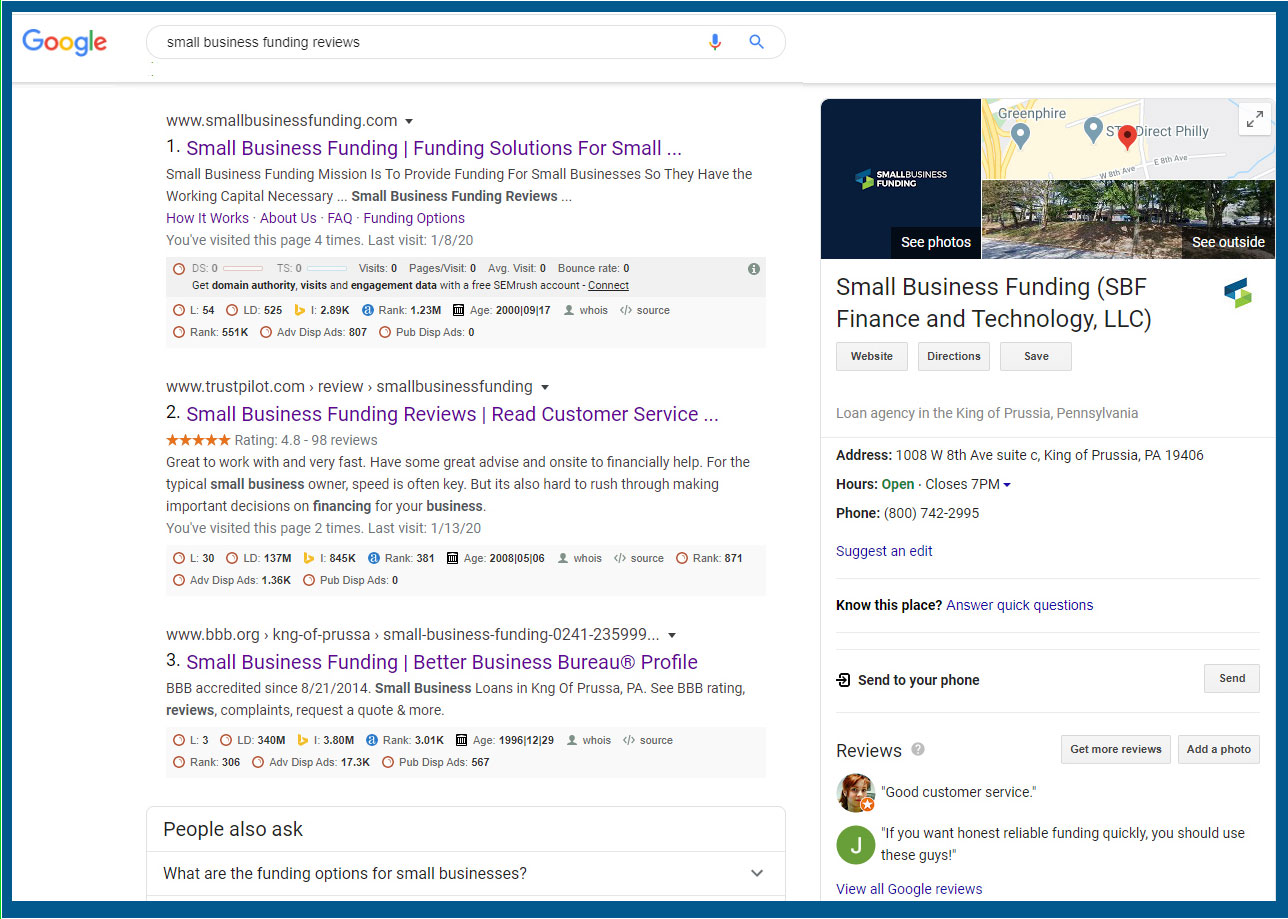 Working Capital Needed
Determine how much working capital you will need.
Factors Lenders Look at When Determining Your Eligibility
Each factor to determine your eligibility to receive business funding with bad credit will vary by lender.  These factors give lenders an idea on how you manage your business finances and determines if you will have the money available to pay back the loan or advance.
Here are several factors which Small Business Funding will look at:
Credit Score
Any score under 680 and a traditional bank will consider you "high risk" and likely decline you.  With many alternative lenders, they will accept a credit score as low as 500.  There may be a few that will approve you with a score under 500 but the other eligibility factors will need to strongly outweigh this poor credit score.
Time in Business
Lenders want to see a minimum time in business so they can see how you've managed your finances in that time.  This minimum will vary by lender and by the type of funding you're eligible for and decided to take.
For example, Small Business Funding requires at least 6 months in business for our Working Capital Advance product and up to 2 years in business for the SBA Loan.
Annual Revenue
Annual revenue is partially used to determine the amount you could potentially receive if approved.  Someone who has a monthly revenue of $10k most likely won't get approved for $100k.
There will be a minimum annual revenue requirement which will vary depending on the lender and the funding option.
Small Business Funding requires an annual revenue of $180k (or $15k month) for the Working Capital Advance.  Or our business line of credit would require a minimum annual revenue of $300k.
Cash Flow
Having a consistent cash flow is important for both the success of your business and your ability to get approved for funding.  Lenders who see numerous negative balance days will view you as a risk.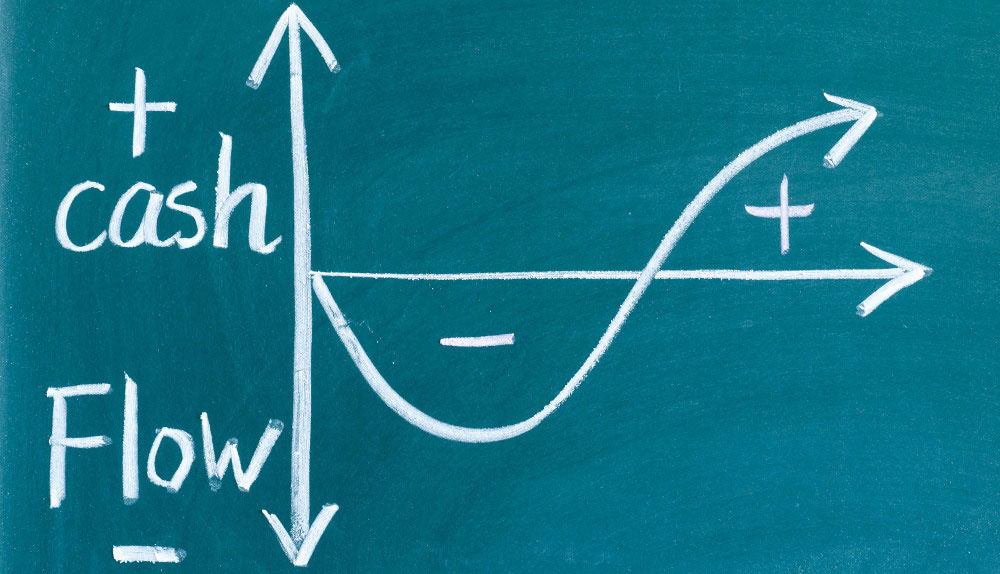 Your cash flow paints a picture to an underwriter, if your finances are relatively consistent this will help offset your credit score.
This information, along with your revenue, will be verified with your business bank account statements.  These statements will be required, so if you don't have a business bank account, you will not be approved.
Improve Your Chances of Obtaining a Business Loan with Bad Credit
Applying for a business loan/funding takes preparation.  There are a few steps you can take to improve your chances of getting a small business loan with bad credit.
Provide Collateral
By putting up collateral, a lender may be more willing to provide you funding because this puts some risk on you.  Now if you were to default on the loan, the lender can take ownership of the collateral.  This will offset their risk since they can sell the collateral to regain their losses.
Have someone co-sign
Not all lenders will accept a co-signer, but if you find one who does, this option could help improve you chances of getting approved for a business loan.
The co-signer will need to have excellent credit.  They will also need to go through the application process and provide all necessary documentation.  And they will need to co-sign all loan documents, assuming responsibility of the loan terms should you default or are unable to make a payment.
Types of Small Business Loans for Bad Credit
There are several types of small business loans that are available for someone with bad credit.  What you qualify for will depend on the factors outlined above.
Here are some of the funding options alternative lenders may offer: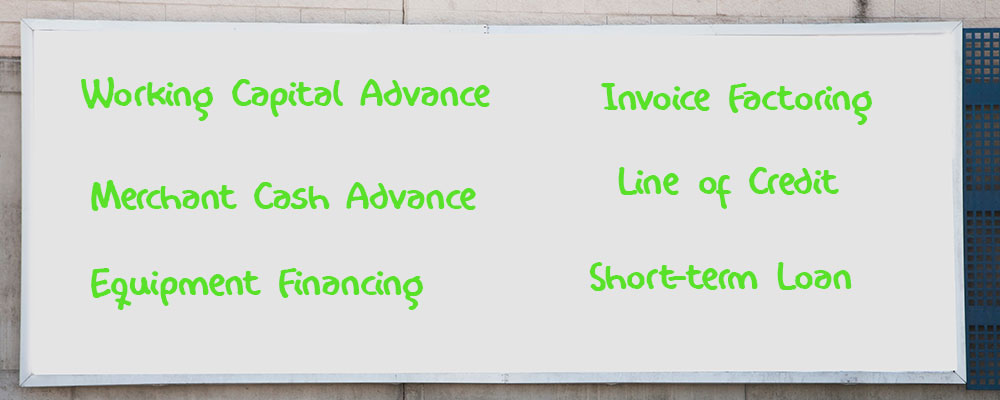 Working Capital Advance
A Working Capital Advance is usually your best option for getting approved for funding with a bad credit score.  This funding option is not considered a loan as there is no APR and the payments are daily (in some cases weekly) instead of monthly.  It is considered an advance of cash on future credit card receivables.  Payments are calculated at a factor rate, not an annual percentage rate (APR).
The lender will hold back a percentage of your credit card receivables via your credit card processing or via your daily ACH debit from your bank account.
Small Business Funding's minimum FICO requirement for this option is 500.
Merchant Cash Advance
A Merchant Cash Advance is similar to the Working Capital Advance, the main difference is how payments are made. Each day when you batch your credit card sales to your merchant processor a set percentage of those daily sales will go straight to the lender.
Equipment Financing
Equipment financing is a funding option used for the specific purpose of purchasing equipment.  The equipment itself is then used as collateral, this helps keep the APR lower.  It also allows lenders to approve owners with lower credit scores.
Small Business Funding's minimum FICO requirement for this option is 600.
Invoice Factoring
Invoice factoring is when you sell your unpaid invoices, at a percentage of the value, to a lender and they collect payment directly from your customers.
Line of Credit
With a business line of credit you are able to withdraw the amount you need, when you need it, up to the approved amount.  You only need to pay the interest on the amount you withdraw.
Small Business Funding's minimum FICO requirement for this option is 620.
Short-term Loan
A short-term loan is when you receive a lump sum of money which you'll need to pay back within a relatively short period of time.  Usually anywhere between 1 and 5 years.
Small Business Funding's minimum FICO requirement for this option is 640.
How to Get a Business Loan With Better Terms in the Future
The better your credit score, the better terms you may be able to receive plus you'll stand a stronger chance of qualifying for a loan/funding.  However, if you need a loan now, there isn't much you can do to improve what terms you'll get should you qualify for funding.
But there are a few things you can start doing today to improve your chances of getting a loan in the future and with better terms.
Improve Personal Credit Score
Start working to improve your personal credit score.  There are several ways to accomplish this, but simply following these best practices are a great way to begin:
Make sure all your payments are made on time
Get your credit-to-debt ratio under 30%
Limit the number of hard inquires creditors use when checking your score
Actively monitor your credit reports to ensure they're accurate

Establish and Build Business Credit
Establishing and then building your business credit can help you separate your personal finances from your business finances.  Once your business has a strong history of building credit and making payments on time, then less emphasize may be placed on your personal score.
Build a History with a Lender
If you qualify for a loan or other funding option with a specific lender, once you are eligible to receive funding again, go with the same lender.  If you've established a good history of making your payments on time, this lender will view you favorably, as a lower risk, and you may be able to get better terms.