No Collateral Business Loans
Small Business Funding specializes in finding small business owners in need of fast capital with no collateral business loans.
Banks and other lenders may require collateral, some form of equity that is equal to the value of the loan.  This may be in the form of personal and/or business real estate, equipment, vehicles, etc.
The main reason a lender requires collateral is to reduce their risk.  If you default on a loan a lender can liquidate those assets to recoup some or all of the debt.  It's due to this reduced risk which allow those lenders to offer lower rates compared to lenders who provide funding without requiring any collateral.
Small Business Funding offer multiple funding options which do not require any collateral such as a Working Capital Advance, SBA Loan, or Business Line of Credit.  The type of funding you may qualify for depends on several factors including time in business, monthly revenue, and FICO score.
Since we are taking on more of the risk, the payback may be higher then a traditional bank since they require collateral.
To see if you qualify for a no collateral business funding option, complete our business funding request form and one of our Funding Managers will be in touch to discuss.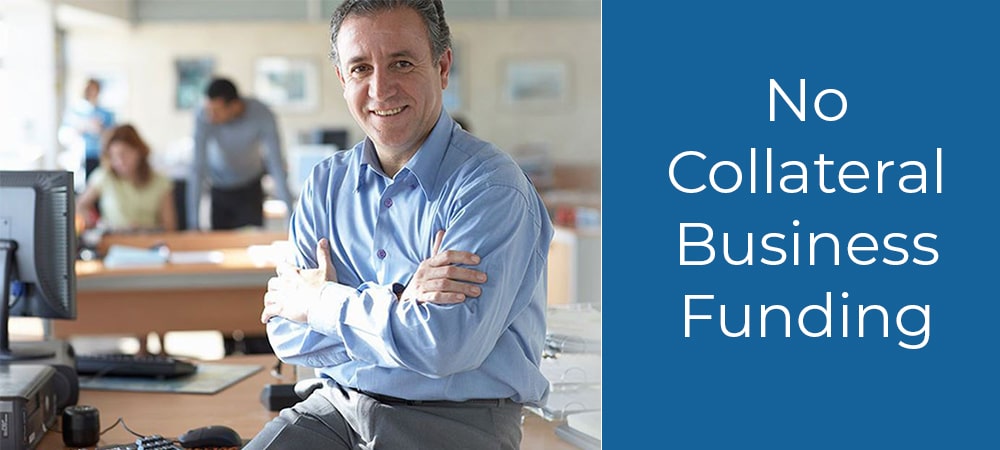 Why Small Business Funding?
We work diligently on your behalf to find you the capital you need fast. Our goal is to make the process as hassle free as possible:
1 page application
Reach out to all alternative lenders
Get approvals within 24 hours
We handle the logistics of where to send the paper work
We negotiate with the lenders
Your credit is not run over and over
Guide you through the entire process until processing
We will follow up to make sure you are satisfied
No collateral business loans are difficult to get from traditional banks. Usually, they would want some sort of collateral for you to pledge in addition to a personal guarantee. When you do not have sufficient collateral you are stuck.
Small Business Funding believes that your performance as a business owner should be the primary factor in receiving no collateral business loans and not whether you own a building. Our underwriting process allows us, and our network of lending partners, to make lending decisions without securing collateral.
We look at your business performance foremost when determining if you qualify for funding.
If you receive a merchant cash advance it is not a loan at all as there is no term and if it's an unsecured small business loan it is actually an advance against future receivables. The alternative lender determines what you pay back based on your industry, cash flow, seasonality, average daily bank balances, and many other factors.
Small Business Funding helps you by making the entire process as seamless as possible.