In a world that is becoming increasingly globalized, more and more people are donning the suit and tie for work. Students graduate with dreams of big city life and Wall Street jobs. With these high-end lifestyles comes plenty of dry-clean only clothes, and there is certainly no predicted shortage of dirty laundry to be had.
Despite the need for crisp collars and pressed pants, growing an established dry cleaning business can be costly and challenging, and finding commercial dry cleaning business financing can prove to be even more difficult.
For those companies that are looking to expand their already successful business, the current state of the environment calls for a modernization of facilities and the implementation of "green" dry cleaning services.
Whether you are looking for commercial dry cleaning business financing to expand, renovate, or "go green", a small business loan may be just what you need.  Securing commercial dry cleaning business financing no longer requires taking your business to the cleaners.

How do You Compare: Dry Cleaning Industry Statistics
The dry cleaning industry, despite being a $9 billion industry, has been declining for the past several years.  This decrease in demand is due to an increase in coin-operated laundromats, household washing machines, and other alternative products.  Added to this is a shift in workplace dress codes to a more casual environment.
Industry experts are expecting a decrease at an annual rate of 1% over the next 5 years.
65% of the industry's revenue is generated through retail laundry and dry cleaning services while laundromats account for approximately 35%.
Your Best Option: Alternative Lender vs Commercial Bank
When looking where to apply for a business loan or other funding option, two of the lenders you can choose are either an alternative lender or a traditional bank.
Here is a chart to help explain the differences between these two options: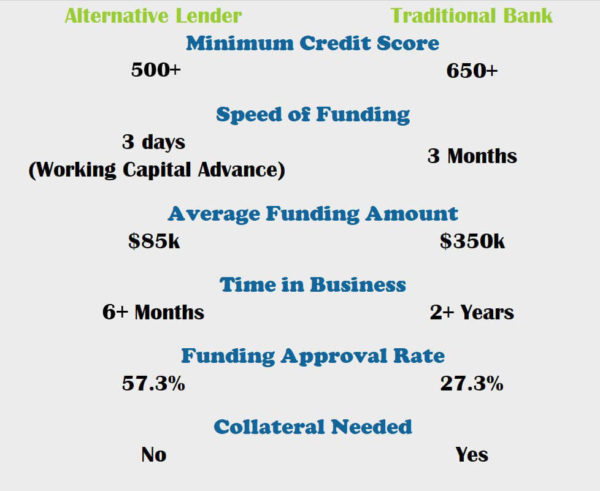 Types of Commercial Dry Cleaner Funding
So you need funding for your dry cleaning business, now what?
Now you need to determine what funding option is best suited for your business needs.  If you have poor credit or are a newly established business, then your decision will be a little easier because you may only be eligible for a working capital advance.  But if you've been in business for a couple of years and have a good credit score, then you have multiple funding options to choose.
Depending on the lender you go with, they will work with you to determine which funding option(s) you qualify for.
Here are several funding options which Small Business Funding offers:
With approvals up to $250k, a business line of credit is ideal when you need to meet short-term business needs such as purchasing equipment, advertising expenses, and making payroll to name a few.
A line of credit allows you a certain level of flexibility as you can control how much and when you withdraw your funding, up to your approved amount.  Your repayments with a fixed interest rate are made only on the amount of funds you withdraw.
You may be able to get approved for a term loan with Small Business Funding for up to $200k.  With this option you are given a lump sum of capital up front which will be repaid monthly plus interest.  A term loan is ideal for a business owner seeking a more traditional loan structure, if you need quick capital, and/or you do not have perfect credit.
With an SBA loan, your loan will be partially guaranteed by the government.  This guarantee eliminates some of the risk for the lender.  An SBA working capital loan is ideal if you own a more established business which as operated profitably for at least 2 years and has a longer term vision you would like to execute on.
This financing option offers approvals up to $1 million for the purchase of a business-related piece of equipment.  Payments for your equipment will take place monthly and include the principal and interested over a fixed term.  Your purchased equipment will be used as collateral.
This funding option may be ideal for you if you have poor personal credit or have been in business a relatively short period of time and haven't built a business credit history.  The reason why is because this type of funding puts a greater emphasis on your monthly revenue and the stability of your cash flow when determining if you qualify.
However, unlike the other options which offer monthly payments and a fixed APR, the working capital advance pay back is typically daily.  It is not considered a loan, instead it's an advance of cash on future credit card receivables.  For this reason, there is no APR rate and no set repayment terms.  There is only a set pay back amount where flat fee will be charged to you for the advance.  The pay back period tends to be shorter as well, typically 3 – 12 months.
Why Small Business Funding For Your Commercial Dry Cleaning Business Financing
Small Business Funding (SBF) serves as one of the county's leading networks for small businesses searching for fast capital. SBF offers incredible loan alternatives that are perfect for small businesses like dry cleaners.
SBF works directly with potential lenders, connecting small business owners with experienced and alternative business lenders, thus providing the best opportunity for securing funding on the basis of each business's need.
Small Business Funding works with small business owners to create individualized business programs, offering multiple funding options designed for your unique business needs.
In choosing to work with Small Business Funding while in search of commercial dry cleaning business financing, one can be sure that they will have access to a large network of potential lenders and funding specialists.
We are a great alternative source of loans for business that have been turned down by their banks due to bad credit, have not been in business long enough to obtain a loan, are in need of a loan amounting to less than $100,000, as well as for businesses that are in need of quick funding.
To see how Small Business Funding can provide commercial dry cleaning business financing you can call 800-742-2995 or complete our online application.