Hookah lounges, smoking and cigar lounges are in just about every major city and continue to expand their reach. It is estimated that by the year 2024 the E-cigarette market is set to reach $53.4 billion globally.  And a large portion of those sales will come from retails stores in the form of a third party distributor or directly through a dedicated smoke or vape shop.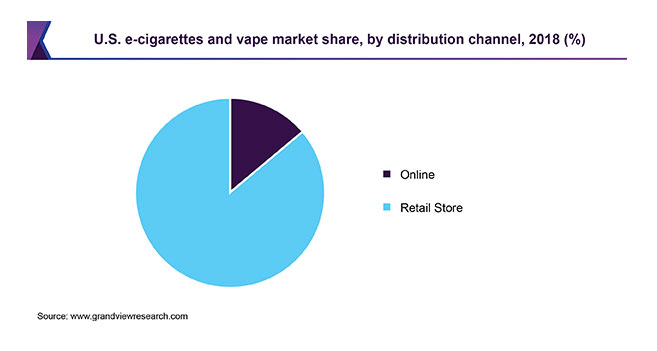 Launching a new or maintaining a store requires a lot of capital and often these retailers are hard pressed to find fast capital. When a location becomes available you have to act fast as location is everything in any retail type business. Smoke, cigar, or vape shops are no different.
Financing For Vape and E-Cigarette Shops
Alternative financing could potentially be the best source of fast capital for this type of industry. Very little documentation is required and you could receive a lending decision within only 24 hours.  There are several different types of funding options available for your business.  Each financing has its own set of requirements and terms.
Here are funding options to consider:
If you are seeking a funding option which allows you some flexibility for your vape/smoke shop business, look no further.  With a business line of credit, you can control how much and when you withdraw your money (up to your approved amount).
A business line of credit is ideal when you need to meet short-term business needs such as purchasing inventory, making payroll or advertising.
With a term loan you receive a lump sum of capital which you pay back with regular repayments with a fixed interest rate. This is similar to standard loan you would receive when purchasing a car or home.  Length of this loan is typically two to five years.
As a business owner, a working capital advance may be ideal for you if you have poor personal credit or have been in business a relatively short period of time and haven't built a business credit history.
This type of funding puts a greater emphasis on your monthly revenue and the stability of your cash flow when determining if you qualify.
However, unlike the other options which offer monthly payments and a fixed APR, the working capital advance pay back is typically daily.  It is not considered a loan, instead it's an advance of cash on future credit card receivables.  For this reason, there is no APR rate and no set repayment terms.  There is only a set pay back amount where flat fee will be charged to you for the advance.  The pay back period tends to be shorter as well, typically 3 – 12 months.
The SBA Working Capital Loan is a financing option which is partially guaranteed by the government.  While these loans may be more difficult to qualify, they are truly one of the best options for your business.
This financing type is ideal if you need to purchase a large piece of business-related equipment.  Payments for your equipment will take place monthly and include the principal and interested over a fixed term.  As securing for the financing, your purchased equipment will be used as collateral.
Vapor and E-Cigarettes Businesses are Growing
Electronic cigarette (e-cigarette) manufacturers are growing very quickly. They are considered a high-risk type business as this is dealing with new innovations that are not 100% proven. This is a difficult position for any company especially when they know if they had more inventory they could generate a lot more income through sales.
Getting fast capital though is a major hurdle for any business including those selling Vapor Cigarettes. The electronic cigarette industry is really taking off and staying ahead of your competitors is paramount to success. Thankfully, those in this industry can turn to SmallBusinessFunding.com for fast capital allowing you to continue to grow and prosper.
This Smoke shop electronic cigarettes industry continues to come out with new and innovative products. Buying this inventory at a moment's notice and being the first retail location to stock their shelves will benefit. Having a close relationship with an alternative lender who can supply fast business capital for these purposes will let you, the business owner, sleep easy at night.
Applying for a smoke shop electronic cigarettes business loan or funding option is quick and easy.
You can simply call one of our dedicated specialists at 800-742-2995 or complete our online application.  It's that easy.