Getting a business loan can be stressful and difficult.  You may be asking yourself:
"Where do I start?"
"How much do I need?"
"How quickly can I get funding?"
There are several different factors both traditional banks and alternative lenders use when determining whether to qualify you for a business loan.  This can be very frustrating as a business owner.  And not everyone will qualify for funding.
To help you, we've put together an easy, step-by-step guide on how to get a business loan.
1-Determine why you need a business loan
2-Determine how much you need and how much you can afford
3-Set realistic expectations on your eligibility for a business loan
4-Research the different type of business funding options
5-Find a lender that best fits your need
6-Gather the necessary documentation / Get your financial statements in order
7-Apply for and close the business funding option
1 – Determine Why You Need a Business Loan
This should be the first question you ask because how you answer this will help determine the type of loan and lender you should be looking at.
Businesses need additional working capital for a variety of reasons.  We've highlighted the more common reasons a business might need funding, such as:
Start a Business
Starting a business could be the number one reason business owners are looking for funding, but it is also the most difficult to get approved for.  From a lenders' standpoint this is a high-risk loan.  However, there are other ways to find financing for your business should you get turned down from a more traditional lender.
Purchase an Existing Business
You stand a better chance of getting approved for a business loan if you purchase an existing business that has a healthy track record of success.
Working Capital
Having enough working capital is key to the survival and success of any business.  A business may need additional working capital so they can cover short-term expenses, or a seasonal business may need help with cash flow during slow months.
Purchase Equipment
If you need to purchase new equipment or machinery, then you should look into equipment financing.  This is less risky for the lender since the equipment will be used as collateral, so in some cases approval may be a little easier to obtain.
Refinance Debt
Businesses sometimes take out a business loan when they need or want to refinance debt in order to get better terms, or spread out the expenses over a longer period of time.
Purchase Inventory
Your business may need to purchase a large amount of inventory but does not have the cash on hand.
2 – Determine How Much You Need and How Much You Can Afford
It's important you calculate the right amount.  Borrowing too much money may lead to significant stress on the business over time.  Too little and you may be missing an opportunity.
A business loan calculator is a good tool to use if you were to get an SBA Loan, Term Loan, or Line of Credit as these funding options have monthly terms and APR's that can be entered into the calculator.
Also, be aware that depending on the lenders qualifications you may not get approved for the amount you need, or qualify for a specific funding option.  If this is the case you may need to adjust how you plan on utilizing the funding.
3 – Set Realistic Expectations On Your Eligibility For a Business Loan
Now that you've determined why you need the funding and how much you need and can afford, it's time to set some realistic expectations.
There a several different funding options available to you, and some will have more favorable terms.  The stronger your qualifications, the better terms you can expect.  What you are eligible for will depend on varying factors.
Each lender's qualifications may be different, but here are a few factors that most lenders will look for:
Personal Credit Score
All lenders factor your personal credit score into their underwriting evaluation to determine whether you will be eligible for a loan.
Most traditional banks will not approve you for a business loan if your score is under 675.  In these cases, you'll want to research alternative lenders.
Time in Business
The longer you've been in business, the more history a lender can view when determining if you qualify for funding.  This gives the lender more confidence that your business will generate the necessary revenue to pay the loan or funding.
Time in business requirements may also determine which loan option you would even qualify for.
Monthly or Annual Revenue
There are alternative lenders that will require your monthly revenue to be at least $8k whereas a traditional bank may require your monthly revenue be at least $50k if not more.
In addition to revenue (which is the gross income of a business), lenders will also factor in the actual profit (net income of a business) generated by the business to determine whether the business can afford debt.
Business Bank Account
Do you have a business bank account?  Most lenders will ask for between 3 months and up to 2 years of your business bank account statements.
This will be used to verify that your business has consistent revenue over that time period.
If you do not have a business bank account that shows the minimum requirements, you will have a tough time finding a lender willing to approve you for funding.
4 – Research the Different Type of Business Funding Options
There are many different business funding available to you.
Some of the more common funding options are:
Traditional Bank Loan
SBA Loan
Term Loan
Business Line of Credit
Merchant Cash Advance (or Working Capital Advance)
Equipment Financing
To help you narrow down your research here are a few things to consider based on your criteria and amount you're seeking.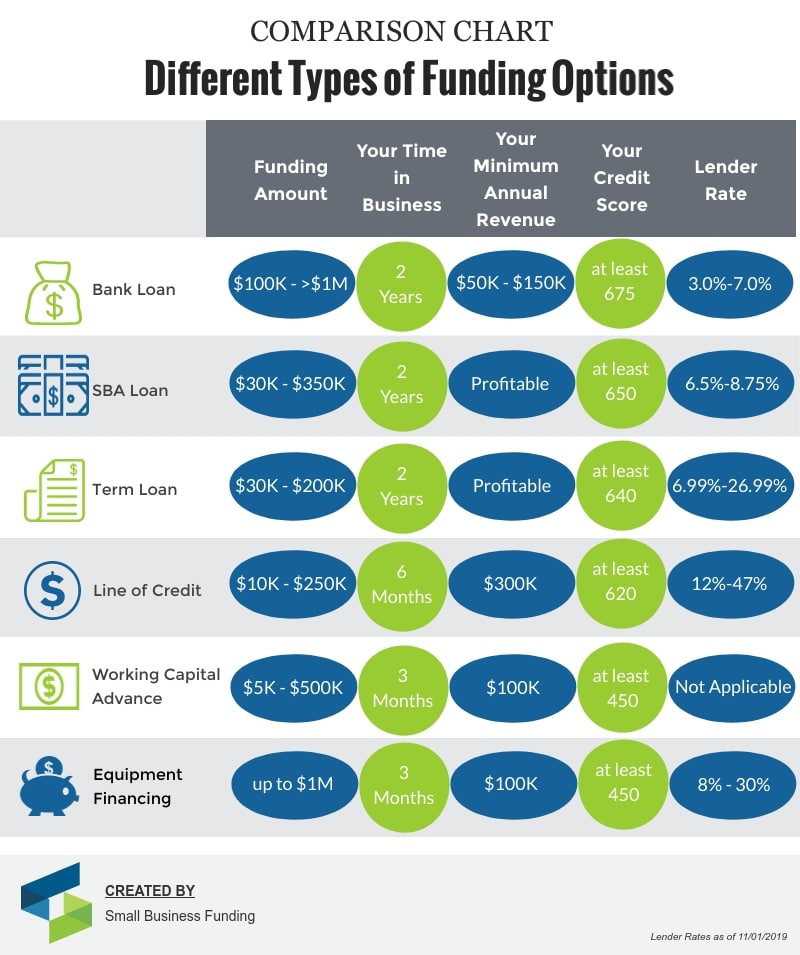 5 – Find a Lender That Best Fits Your Needs
To begin finding the lender that best fits your needs, start by determining if you can qualify for a bank loan.  If you can, this may be your best option as you will get the best rate and terms with a traditional bank.  Interest rates for these types of loans will be lower than with an alternative lender (or online lender).
It would be best to start with the bank you already have a business bank account with.  For other options, you can research best banks for small business loans online.
If you will not qualify, or if you get turned down, for a traditional bank loan (72.7% of small businesses are not approved), your next best option may be with an alternative lender.
To help you expedite your search, find an alternative lender that can either fund in-house or act as a broker with other lenders.  This may help save you time by finding the best terms available from multiple lenders and making them compete for your business.  Small Business Funding can help you review and obtain multiple types of funding.
Although you may qualify for a business loan with a traditional bank, if you're looking for funding quickly, a bank may not be your best option.  The approval process with a bank may take up to 90 days.  In this case, an alternative lender will be your best bet.  Approval with alternative lenders could happen within 24 hours (depending on the funding option) and you could have funding within 3 days.
6 – Gather Necessary Documentation
To expedite the process, get your financial statements in order.  Typically, the harder it Is to qualify for a business loan, the more documents you will need.  However, traditional banks will always require more paperwork than an alternative lender.
Depending on your loan type, here is the minimum you would typically need:
Traditional Bank:
Business Plan
Business Income Tax Return
Personal Income Tax Return
Business Bank Statements (at least most recent 12 months)
Personal Bank Statements (at least most recent 12 months)
Some Type of Collateral or Equity
Alternative Lender:
Application (usually 1-page)
Business Bank Statements (at least most recent 3 months)
7 – Apply For and Close The Business Funding Option
Now that you've done your research, the final step is to apply.
Some lenders will do an initial hard pull on your credit, so be careful applying to too many lenders as this will bring down your credit score.
After you apply, the lender will let you know if you're pre-approved.  If you are, you will need to provide your documentation and an underwriter will review and verify your information.
If you pass underwriting, a loan agreement will be discussed with you.
Looking for a business loan?  Let Small Business Funding and our team of funding experts help.  We've helped thousands of businesses get the necessary funding to grow their business.  You could be next.