Small businesses often are in need of capital. That is the lifeblood of any business. A business' cash flow is paramount for its success. Fast business capital can save your business from falling behind the competition or from shutting your doors for good.
Unfortunately, there aren't many options for small businesses to turn to for fast business capital. Going to a bank may be your first and possibly smartest step as a bank loan will more than likely provide the least expensive option with the best terms. But this doesn't fulfill your business' need for obtaining "fast" capital.
Banks are historically slow in providing capital. In fact, they can take as much as 60 – 90 days simply for an approval.  This is due to the banks process where they have multiple officials and employees review your application.  And even after that time, you could be declined.  Banks approve less then 28% of all business loan applications.  Imaging gathering all the necessary paperwork (which banks require a lot of) just to be declined.
But let's suppose you go through all barriers with the application process, wait months, get approved…then what? Then, you may have to wait another 2 – 3 weeks to actually get the cash.
Alternative Lenders For Fast Working Capital
The options for small business owners are limited. Family and friends will probably not be an option as you most likely turn to them to get your business started in the first place. Again, banks take way too long but what if you are not "bankable?" Meaning, that you have only been open for few years or your credit isn't good enough, or you are considered a "high risk" industry.
The option that is left for fast business capital is the alternative business lending sector. This sector is made up of private alternative lenders, non-banks, which specialize in financing "non-bankable" businesses. You can get funding in less than a week. These alternative lenders are well versed with dealing with high risk businesses that banks will not lend to. They have established a lightning fast process of underwriting that isn't dependent on your credit score, enabling small businesses to secure capital fast.
But with this convenience will come a cost and you should tread lightly and do your homework. Alternative lenders can be expensive, depending on the funding option.
Fast Business Capital Options
Assuming you don't want to wait over 2 months to secure funding for your business, there are several funding options that alternative lenders offer.  The speed to receive funding for each type varies.  As does the requirements and terms for each.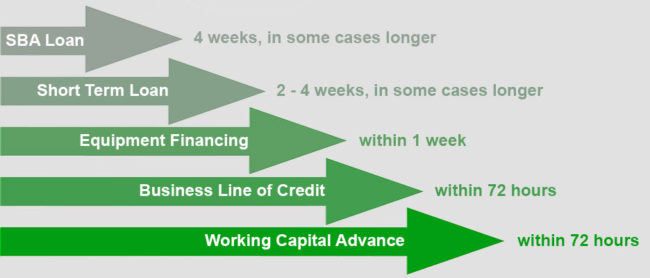 Working Capital Advance:
The fastest option and the easiest to apply for is a Working Capital Advance. The cost of borrowing will be 15-45% and this is for a relatively short term; 2-18 months in most cases.  This quick funding option is not considered a loan, instead it is an advance on your future receivables.
Many small businesses go this route due to multiple reasons such as:
Have poor credit score
Have been in business a short time
Need to solve an immediate problem
Make a purchase that returns much more revenue than what the capital cost
Although the cost for a Working Capital Advance is high, it is a viable option when used correctly and certainly alleviates the issue of not being able to get a bank loan.
Business Line of Credit:
Getting approved and funded with a business line of credit is also a quick funding option.  You may be able to receive funding within 24 hours after approval.  A business line of credit carries more stringent requirements compared to the working capital advance.  As such this type of funding is a little more difficult to receive.

Equipment Financing:
If you're in need of fast business capital for an equipment purchase, this may be for you.  The funding for your equipment purchase usually takes about 1 week.
The equipment you finance is then used as collateral, as such we make it easier to get approved compared to a bank.  If you were to default on the loan, the equipment would be seized and sold to recoup any loses.
Short Term Loan:
A short term loan is one of the closest options that mirror a traditional bank loan.  It has an APR and is paid on a monthly basis, usually with a 2 to 5 year term.  This type of loan will require a credit score of at least 640 and you'll need to be in business at least 2 years to be eligible.
SBA Loan:
SBA loans typically take the longest out of all the alternative lending options, usually 4 weeks, maybe even longer.  It takes slightly longer and has stringent requirements since the loan is partially guaranteed by the government.  It has a longer term, up to 10-years and a more favorable APR.
Can Alternative Lenders Provide Fast Business Capital That Fast?
If your definition of fast is 2-10 days then the answer is yes!
If you receive an approval decision, which takes 2-24 hours, you are available to speak to the lender, and can provide the documentation needed for fast business capital – application, most recent 3 months of business bank statements (more may be required depending on the funding option) – then you can get capital quickly.
What usually holds up the process is you, the business owner. Be prepared with the required documentation (which is much less than a bank would require) and you can receive fast business capital in a matter of days or weeks.  Again this depends on the type of funding you are seeking and are qualified for.
Fast business capital is ideal to increase cash flow, buy inventory, hire new people, expand, secure a new lease, buy supplies, make payroll, etc.