for youWhen a business needs a new piece of equipment you have numerous sources for financing.  That is if you have good credit.  Business owners with a low FICO score (three-digit number based on your credit reports that lenders use to determine your ability to make payments) will be viewed as risky. Resulting in a difficult time getting funding for your equipment.
Your options will be limited when seeking equipment financing with bad credit, but you do have options.
Being able to purchase that equipment is essential to your business.  Often times the need for a new piece of equipment is mandatory for your business to survive or it is imperative in order to obtain more business and land large contracts.
What is Equipment Financing
Equipment financing is a type of funding for business owners where you are given a lump sump of money for the sole purpose of purchasing a piece of equipment.
The main difference between equipment financing and other types of funding options, like a Working Capital Advance or Term Loan, is that it's strictly for financing a physical asset.  This physical asset will then serve as collateral.  If you were to default on your financial obligation, the lender can repossess the asset.
Qualifications for Equipment Financing with Bad Credit
The qualification for equipment financing will vary by lender but based on our research, most lender's qualifications are similar.
Here is a comparison between a traditional bank and Small Business Funding.

Outside of these qualifications, a lengthy business history of making your payments on time and having a steady cash flow will help your chances of getting approved despite a low personal credit score.
How Does Bad Credit Affect Equipment Financing?
Since the physical asset purchased with the equipment financing will be used as collateral, it will make it slightly easier for you to get approved.
Why?
Because the lender can always repossess the equipment should you fail to make a payment.
Where having bad credit does affect you when it comes to equipment financing is with the interest rate.  You will most likely have a higher APR than someone with perfect credit.  To put that in perspective the APR for equipment financing could range anywhere between 8.0% and 30.0%.

Where to Get Equipment Financing with Bad Credit
The manufacturer or business you are purchasing the equipment themselves may have a credit option.  Otherwise a bank or alternative lender can provide capital for the equipment purchase.
Whether your seeking restaurant equipment financing, farm equipment financing for bad credit, or any other industry specific financing, your bank or an alternative lender may be able to get you the necessary funding.
The amount you qualify for and the interest rate applied will depend on the value of the equipment you seek to purchase and several other variables such as industry, credit, etc.
Other Bad Credit Funding Options for Equipment
If you get declined for equipment financing with bad credit, your best option will be to look into a Working Capital Advance or Merchant Cash Advance.
Both these options are similar.  They are not a loan in the traditional sense, instead they are an advance of cash on future receivables.
A cash advance could be used to purchase your equipment.
The advantage of an advance are they may be easier for you to qualify and no collateral is required.
The disadvantages compared to equipment financing are your term will be much shorter, payback typically ranges between 3 to 12 months and the repayment amount will be much higher.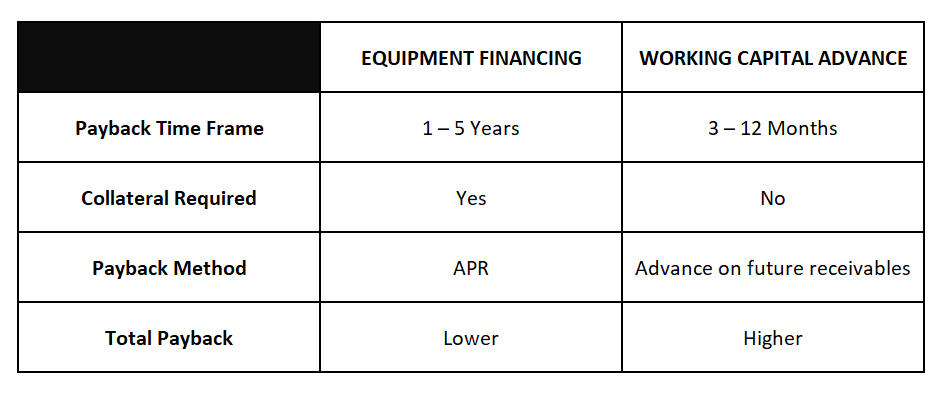 How to Apply for Bad Credit Equipment Financing
Applying for equipment financing is easy.
You can apply with your local bank or the bank where you have a business account.
Or you can apply online with an alternative lender such as Small Business Funding.
With Small Business Funding you can complete our online business funding request form or call one of our Funding Managers at 800-742-2995 to discuss your options.