Is your business on Facebook?
If not, why?  Facebook has 2.41 BILLION monthly active users.
The numbers certainly support the fact that you need to have a company Facebook page:
For those that do have a Facebook page, how are you using it?  It's not enough just to have a page.  Consumers have a certain level of expectation when following or visiting your company page.
When done right Facebook can be a very powerful tool to increase brand recognition, grow your customer base, and drive more revenue.  But it must be done the right way.
The Ultimate Goal…
If your Facebook page is going to be successful, there is one goal – Increase Facebook ENGAGEMENT.
Why is engagement so important?
Since there are so many friends, family and businesses you follow on Facebook posting images, videos, content, etc, the powers that be at the social media giant decided that there is too much content for one person's news feed on a given day.  Meaning, everything you post is not seen by everybody following your company.
When analyze the data by looking at your "Reach" for a single post, it is probably significantly less then the number of people following you.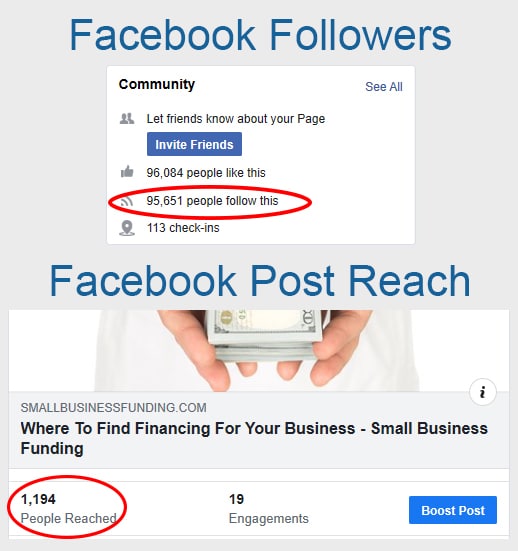 For example, your company page may have 10,000 followers but your last post was only seen by 200 people.
Why is this?
Facebook's goal is to show content that people want to see.
They use an algorithm to determine which post get seen.  Some of the main factors are:
1- The Type of Post – videos and photos get show more than text only posts
2- When Was It Posted – the more recent the post, the more likely it will get shown
3- Who (the company) Posted It – the more a client has interacted with your previous posts will way heavily regarding future posts
4- New Facebook Products – when Facebook releases a new way to consume content such as Facebook Live or Slideshow, they need to get data.  So the content is more likely to be seen in the beginning
5- How Other People Engage With the Post – the more people interact with a post by liking it or commenting on it, Facebook views this as important content and will increase your reach.
But not only is engagement important for your current post but it's also important for your future posts.  The more sustained engagement you have over several posts, Facebook will view the content you put out as valuable, something people want to see.
Eventually you will start seeing your "reach" climb.
So increasing your engagement isn't about one or two posts.  It's a sustain level of effort.
Here we will highlight how you can achieve consistent levels of strong engagement with Facebook.
Videos
Facebook love videos but specifically, they love their video platform.  If you have a video on your YouTube page and post that link on your Facebook feed, it will get views and engagement because that's how most consumers prefer to consume content.
But if you want to get even more views, then upload that video to Facebook.  In the Facebook algorithm, they put more emphasis of videos posted to their platform.
Keep the video short, no more than :60 – :90 seconds.
Live Videos
"Facebook Live" is a live video streaming program.
Streaming videos have gained popularity over the past couple of years.  In fact, 78% of online audiences are watching videos on Facebook Live.
Facebook Live is a great way to personalize your message.  And it's a unique way to engage with your customers.
During a Facebook Live broadcast, you can view and answer customer questions as they post them in real time.
To maximize your viewers, advertise prior to the event the day, time and topic you plan on discussing.
Photos
Photos are the quickest, easiest, and one of the most effective types of posts.  Your photo posts can be of your products/services, customers, employees, company events, etc.
A personal example we can share: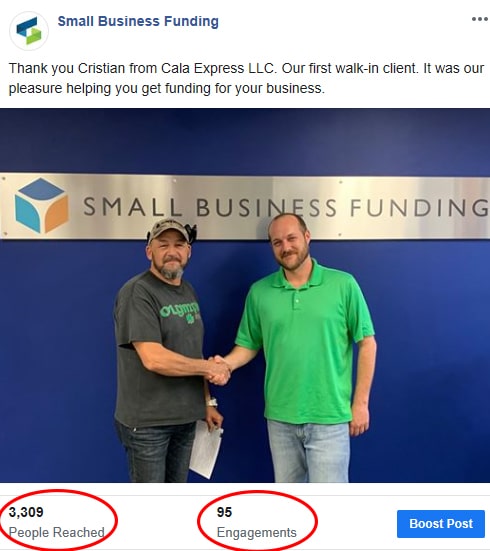 This was our highest reach and engagement for the year.  The photo represents our brand by showing the strong level of personalized support we provide each and every one of our customers.
Contests
Perform a contest to drive engagement.
One example of a contest which I personally have successful ran in the past:
Show an image and ask people to come up with a caption and whichever comment receives the most "likes" wins.
Not only are you getting people to like and comment on your posts, but you're expanding your reach beyond your current followers.  This can lead to more followers and potentially customers.
Educate
Write a blog post on a topic related to your business (for example: a restaurant owner can come up with a list of quick meals or how to cook a specific side dish).  The content will be hosted on your website but you would then post that link on your Facebook page.
Not only will this drive more engagement on Facebook, but it will help SEO (Search Engine Optimization) by increasing traffic to your site.
View The Data
Now that you've posted some great videos, photos, and content you need to track the data.  If you manage your Facebook page, in the top navigation bar there is a tab for "Insights".  Here you will be able to view your posts, type of post, reach, and engagement.
Use this section to see what posts perform the best and create more content similar to what works.
Conclusion
The number of times you post a week is up to you but to stay relevant and to start building some traction, I would recommend at least once a week.
Your customers want information, they want to be entertained and feel they are part of your brand.  If you have specials or offers you want to promote on Facebook, by all means do so.  But don't make your entire social media strategy about increasing your sales.
Again your strategy should be about increasing engagement which will lead to more reach (people viewing your post).  If this is your strategy, when you do have an opportunity to push a promotion, more people will see it.  Because Facebook will view your brand (and posts) as something relevant, that people want to see.