A strategic loan for your small business can make all the difference in helping it become more profitable. Whether you're hoping to expand your real estate options to make room for your growing business, increase the speed and quality of services through new equipment, or bolster your inventory for a busy season, a loan can make that happen.
But where is the best place to get a business loan? With the strict standards of banks these days, it can be difficult to find the loan you need at a rate you can afford.
While applying for loans from a bank can be a long and complex process, we believe you should still be able to find the best possible services to suit your needs. That's why Small Business Funding offers more flexible loan options with much faster approvals so you can get the money you need to get your business profitable now.
In the meantime, to help you with some of the latest and greatest information surrounding the best banks for small business loans, we've compiled a list of reliable banks that may be able to help you get the loan you need.
National Banks
Each national bank you can work with is chartered by the U.S. national government and is part of its Federal Reserve System. They've been integral financial institutions since very early on in our country's history and continue to provide the public with access to banking services with everything from personal checking accounts to mortgages and business loans.
When you work with a national bank, you'll often have the advantage of a wide variety of services and access to physical bank services all across the nation for easy transactions and account handling.
While big national banks often have the disadvantage of rigid systems and a 'one size fits all' mentality when it comes to customer service, you can still find reliable loans from what we consider some of the best places to get a small business loan.
Wells Fargo
Likely one of the most well-known names in the national banking industry, Wells Fargo has been in business for over 160 years. Its reliable reputation during that time comes from its survival through the Great Depression and the storied ups and downs of the U.S. market through history. With all this history, however, you can still count on new innovations and flexible business solutions when it comes to small business loans.
Wells Fargo has been through it all, from the initiation of drive-up tellers to automated teller machines and online banking to offer customers a streamlined, convenient service.
US Bank
Not unlike Wells Fargo, US bank has a history that goes all the way back to 1863. After a series of mergers when the 21st century hit, the financial institution took on the name of U.S. bank and established itself in Minnesota. Since that time, it's grown to be among the five largest banks in the U.S.
As a result, you can expect some of the most diverse and intensive services when it comes to corporate and commercial banking for clients. With the consistent, predictable and repeatable processes you can expect from US Bank, they're one of the best banks for small business loans.
JPMorgan Chase
Another business that's seen a great deal of history (over 200 years, in fact), JPMorgan Chase & Co. has its roots in New York City. It began with a number of heritage firms that significantly contributed to financial innovations across the U.S., one of which was, surprisingly enough, helping to finance the Brooklyn Bridge.
Since that time, JPMorgan Chase has grown its presence in over 100 markets and become one of the biggest leaders in investment banking, which includes commercial and small businesses in addition to its regular consumers.
Capital One
Another big name in the banking industry, Capital One is possibly best known for its take on innovative banking designs. Mr. Fairbank has served as the president of Capital One and helped lead the company since 1995, taking it from a start-up venture and into one of the ten largest banks in the country.
A reliable banking partner, Capital One has a mission to help clients succeed through ingenuitive, simple banking practices that focus on bringing an element of humanity and creativity to business. With no shortage of financial services and resources for aspiring entrepreneurs, Capital One is one of the best places to get a small business loan.
Bank of America
Bank of America services approximately 66 million consumers and small business clients across the nation, making it a global leader in areas of wealth management, investment banking, and servicing a wide range of asset classes. Today, Bank of America remains committed to responsible growth, whether that means working with small businesses or the environment at large.
The leadership you can find at Bank of America for reliable growth and accountability, makes it one of the best banks for small business loans. With an emphasis on community and empowering individuals toward financial success, you'll likely find the services you need.
TD Bank
A largely East Coast focused bank, TD Bank's roots go all the way back to 1852 in Portland, Maine. Much like other big bank histories, it gained its current identity through merges that brought together significant financial resources and services to provide loans and banking services for customers and businesses alike.
It remains one of the ten largest banks in America and offers a broad array of services to retail, small business and commercial clients looking for reliable service.
If you want both convenient and varied options for financing your small business, TD Bank is a difficult choice to go wrong with.
Live Oak Bank
With its laser focus on business innovation and opportunities, Live Oak Bank is one of the easiest banks to get a small business loan from. As a powerful financial provider, Live Oak Bank offers speed by making loan decisions quickly, transparency in letting you know where you are in the application process, and direct access on your terms to provide quality communication.
Like any other great bank, you can also expect convenience and security to service your small business's needs. When you work with Live Oak Bank, you'll be able to build a working relationship that gives you loan terms your business can thrive on.
Huntington National Bank
Another pillar in the small business community when it comes to federally backed banking, Huntington National Bank has been servicing customers since 1866. With a focus on the Midwestern part of the U.S. Huntington National Bank has been serving communities to build up small businesses with smart financial investments.
With $59 billion in assets, the bank has no shortage of financial resources to provide the clients approved to work with them. Huntington National Bank has been focused on small businesses and middle market ventures with over 160,000 commercial relationships, so they offer both the services and experience you need to grow your small business.
The Neffs National Bank
A more locally centered national bank, The Neffs National Bank started its banking services in 1923. It remains dedicated to the local community as a one-bank holding company and continues to provide both customers and small local businesses with the banking services and loans they need to succeed financially.
Whether you're looking for a commercial account with no minimum balance or monthly service fees or commercial loans that cover equipment, working capital, lines of credit and more, The Neffs National Bank can provide you with the small business banking services you need.
Chase Bank
Chase Bank is a division of JP Morgan Chase & Co. so large that it claims to serve nearly half the country. In terms of your small business banking, this means you'll easily be serviced just about anywhere in the US, whether you need ATM and cash services or time with an employee face-to-face to negotiate a small business loan.
Another benefit of the bank's size is its investment in technology, which offers some of the best online and mobile banking services for utmost security and convenience. Chase Bank readily offers small business loans to customers who qualify, so they may be the perfect option for prospective owners.
Axos Bank
Though much newer to the financial space than most traditional banks, Axos Bank has grown its assets to over $11.8 billion.
They also differentiate themselves through their technology: Axos was founded as a digital bank in 2000 and still remains an online banking service for all of its customers today. This makes it uniquely flexible in its offerings across the nation, which can also be extremely competitive thanks to the lack of maintaining a large number of physical locations. All of that extra cash goes into improving their digital services, which also include small business loans.
M&T Bank
M&T Bank has its roots in New York as far back as 1856. That reliability is backed by $120 billion assets it has built up over the years, making it another large and flexible resource when you want all the business banking options you can get.
When you bank with M&T bank, you can get corporate loans, lines of credit, checking and many other services. In addition to being a powerful bank to service customer needs, M&T Bank is also rated as one of the best small business lenders to help companies grow.
BBVA
BBVA is another big bank that's unique in its global footprint. With an emphasis on diverse and innovative business practices, the bank has been in operation since 1964 and has only grown since that time.
Besides offering traditional small business services like loans and checking accounts, BBVA goes a step further to provide merchant services and specialty programs meant to help small businesses get access to the funds and services they need to become more profitable.
The Honesdale National Bank
The Honesdale National Bank also offers a more local flavor for customers in the Eastern U.S. Founded in 1836, the bank has offered full-service community banking for decades and was named one of the "100 Highest Performing Community Banks" by Alex Sheshunoff and The Partnership for Banking Excellence.
With a focus on growing the community, small business owners seeking great rates on loans and services may find a great partner in The Honesdale National Bank.
Whether you're working with commercial mortgages, equipment leasing programs or business credit cards, The Honesdale National Bank has that covered and more.
What Local Banks Can Offer
Local banks can be a great option for small businesses looking for loans and services to help them thrive. Though they are certainly smaller than massive national banking institutions, community and local banks often offer more competitive rates on their loans and services.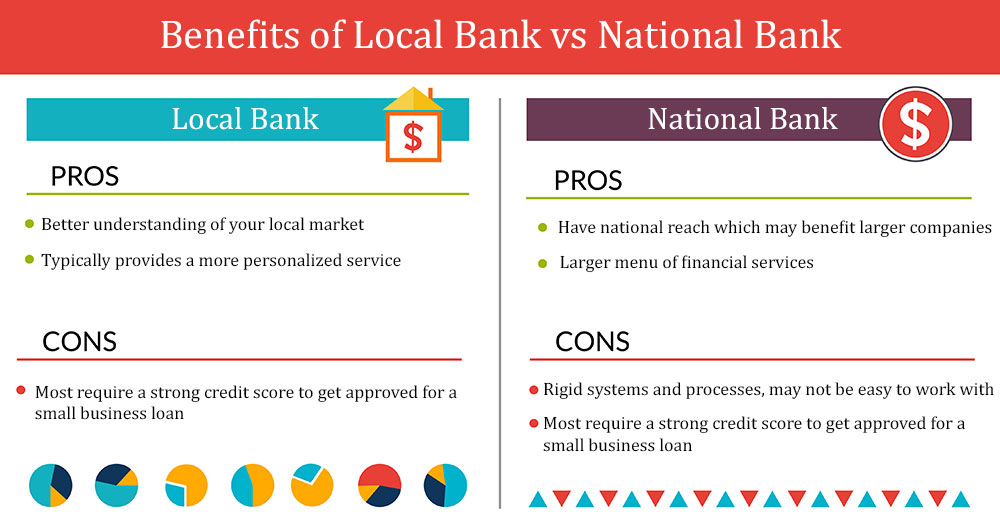 Their checking accounts for businesses and consumers are often free, and their knowledge of local businesses and markets can make them more forgiving when you apply for small business loans.
The service of local banks can also provide more personalized services for loan applications where you can have direct conversations with loan officers and managers to get the services you need for your small business.
Be sure to check the local banks around your area to find competitive rates for business services.
The Best Place to get a Business Loan
While banks are a solid option for your business loan needs, they can still be difficult to acquire funding due to a myriad of reasons.
If you aren't locally established, don't have ideal credit, or struggle to demonstrate a consistent cash flow for your new business, it can be extremely difficult to get a loan, much less one with a good rate.
At Small Business Funding, we're dedicated to providing services for small business owners from all sorts of different markets and circumstances.
If you'd like to get premium financing services to boost the profitability of your business, you can apply with us today by calling 800-742-2995 or completing our online business funding request form.  See how we can help you.